2015.10.20 Tuesday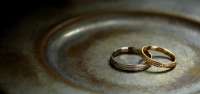 *This image from "mederu jewelry"'s web site
最近のお仕事。
Mederuさんのマリッジ・リングの彫りシリーズ、
Preuve の新しいバージョン Preuve Slimの原型を彫らせて頂きました。
原型に彫りを入れる場合は、一点ものとは違う難しさがあります。
原型によって新しく鏨を制作したり、彫り方についても工夫をしないと、
製品になった時に彫りの表情が大分変ってきてしまうのです。
使って頂くお客様の事を想像しながら、良いものになるようベストを尽くしました。
Mederuさんの皆様にも感謝です!
こちらから、制作に関するインタビューをご覧頂けます。
製品ページも合わせてご覧下さいませ。
http://www.mederu-jewelry.co.jp
Recent work.
Engraving marriage ring series of Mederu Jewelry.
I engraved a original mold of the new version Preuve Slim of Preuve series.
When I engrave into a original mold, It's need to take care more than the one of a kind.
I have to make a new chisel in some cases. And I have to elaborate how to engrave.
Because, The surface impression would has changed when it became a product.
I imagined customers who will receive these rings while I engraved the leafs
and I did my best to become good thing.
Thank you to all staff of Mederu!
You can see the interview and the product information from link.
Please check it out!
Bonus truck?
おまけ☆