2014.11.22 Saturday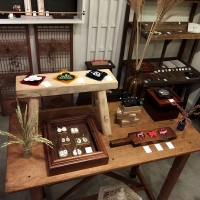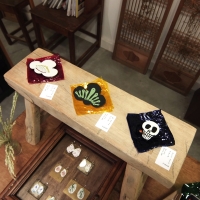 enameling Brooches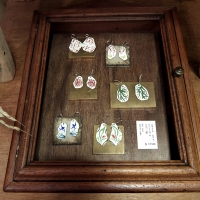 Enameling pierced earrings
My exhibition at KURASU Kagurazaka Store started from today!
This time, I focused on a enameling.
I tryed liquid enamel on steel.
I made Brooches,pierced earrings, pendants,etc...
It's colorful world :)
Please enjoy♪
I'll stay the shop tomorrow 14-17pm.
If you have any questions with my works,please feel free to ask me.
(for example ring size,order,how does it make?etc...)
I'm waiting for you!
And It's nice season of walk.
I recommend walk around Kagurazaka♪
今日から"神楽坂 暮らす。"さんでの個展が始まりました!
今回は、七宝の新作が中心です。
薄いスチール板にリキッドエナメルを使用し、
ブローチ、ピアス、ペンダントなどを制作してみました。
シルバーのリングにも、さりげなく七宝を入れてみたり、
カラフルな世界を楽しんで頂けたらと思います。
明日、23日の14〜17時、在廊します。
制作方法についてのご質問や、
リングのサイズやオーダーについてのご相談なども承ります。
神楽坂散歩をしながら、ぜひお気軽にお立ち寄り下さいませ♪