2014.11.13 Thursday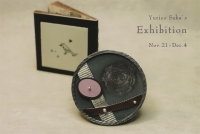 My works Exhibition at KURASU Kagurazaka store will start from next Friday!
I learned about enameling at Penland School of Crafts this summer.
So I tried(trying) to make new works that included enameling.
I will stay in the shop at Nov 23(Sun),29(Sat) 2pm-5pm.
I'm looking forward to see everyone☆
♢Yurico Saka's Exhibition
♢2014 Nov 21(Fri) - Dec 4(thu)
♢KURASU Kagurazaka Store
http://www.room-j.jp/
address: Urban Stage Yarai 101, 68 Yaraicho,Shinjuku-ku,Tokyo,Japan, #162-0805
telephone & fax: 03-3235-7758
business hours: 12:00-19:00 (closed on every Tuesdays, 1st Monday & 3rd Monday)
*During the exhibitoin,Closeed on Nov 25(Tue),Dec 1st(Mon),2nd(Tue).
神楽坂 暮らす。さんでの展示が、来週の金曜日から始まります!
今夏、ペンランドで学んだ七宝を取り入れた作品も登場します!
11月23日(日)、29日(土) 午後2時〜5時 在廊します。
皆様のお越しを、心よりお待ち申し上げます☆
♢坂 有利子 彫金展
♢20141年11月21日(金)-12月4日(木)
♢神楽坂 暮らす。
http://www.room-j.jp/
〒162-0805 東京都新宿区矢来町68 アーバンステージ矢来101
TEL/FAX 03-3235-7758
定休日 毎週火曜+第1・第3月曜(祝日の場合は営業 翌日振替休)
※会期中の店休日 11月25日(火) 12月1日(月) 2日(火)